Metal Recycling Industry is Expected to Cross USD 400 Billion and Grow around 7% CAGR by 2022
View as PDF
Print View
Metal Recycling Market is expected to grow around 7% CAGR during the period 2016 to 2022, metal recycling market size is expected to cross USD 400 billion mark by the end of 2022 | Metal Recycling Market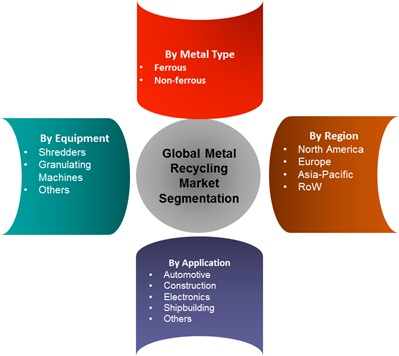 pune, India - March 14, 2017 /MarketersMedia/ --
Metal Recycling Market is expected to grow around 7% CAGR and is expected to cross USD 400 billion marks by the end of 2022
Market Overview
The increase in demand of metals in various end use industries such as construction, electronics and automotive has driven demand for the metal recycling. With the growth in infrastructural activities and the increasing industrialization, there has been an increase in the demand for metal products. The stringent rules and regulations for waste recycling and the increasing concern for the efficient use of natural resources, has led many private agencies and government bodies to actively participate in the recycling of the metals. This is leading to the growth of the metal recycling market.
Request a Sample Report @ https://www.marketresearchfuture.com/sample_request/2201
Market Research Analysis
The market is highly application driven. Automotive sector is dominating the metal recycling market as it requires large volumes of metals for the manufacturing of the body of the vehicle and other components of the automobile. Also, with the increase in purchasing power of the consumers, the automobile industry is booming. This leads to the generation of a lot of metal scrap from the automotive industry. All these factors contribute to the growth of the automotive metal recycling material market.
Key Players
o ArcelorMittal (Luxembourg)
o Baosteel Group Corporation (China)
o European Metal Recycling Limited (U.K.)
o Nucor Corporation (U.S.)
o Aurubis AG (Germany)
o Commercial Metals Company (U.S.)
o Linde Ag (Germany)
o Tata Steel Limited (India)
o Sims Metal Management Limited (U.S.)
o Dowa Holdings Co., Ltd. (Japan)
Regional Analysis
Asia-Pacific region is expected to dominate the metal recycling market with the highest CAGR due to the rapid urbanization in countries such as India and China, along with the growth in the disposable income of the people here. The rising awareness for adopting the right waste management practices by industries, is also contributing to the growth of the global metal recycling market in the region.
Scope of the Report
This study provides an overview of the Global Metal Recycling Market, tracking three market segments across four geographic regions. The report studies key players, providing a five-year annual trend analysis that highlights market size, volume and share for North America, Europe, Asia Pacific (APAC) and Rest of the World (ROW). The report also provides a forecast, focusing on the market opportunities for the next five years for each region. The scope of the study segments the Global Metal Recycling Market by its metal type, equipment, application and region.
By Metal Type
o Ferrous
o Non-Ferrous
By Equipment
o Shredders
o Granulating Machines
o Others
By Application
o Electronics
o Construction
o Shipbuilding
o Automotive
o Others
By Region
o North America
o Asia Pacific
o Europe
Access Full MR Market @ https://www.marketresearchfuture.com/reports/metal-recycling-market-2201
Taste the market data and market information presented through more than 85 market data tables and figures spread in 140 numbers of pages of the project report. Avail the in-depth table of content TOC & market synopsis on "Global Metal Recycling Market Information from 2016 to 2022"
Table of Content
1 Executive Summary
2 Research Methodology
3 Market Dynamics
3.1 Market Drivers
3.2 Market Inhibitors
4 Global Metal Recycling market, By Metal Type
4.1 Ferrous
4.2 Non-Ferrous
5 Global Metal Recycling market, By Equipment
5.1 Introduction
5.2 Shredders
5.3 Granulating Machines
5.4 Others
6 Global Metal Recycling market, By Application
6.1 Electronics
6.2 Construction
6.3 Shipbuilding
6.4 Automotive
6.5 Others
7 Regional Market Analysis
Continued....
List of Tables
Table 1 Global Metal Recycling Market, By Metal Type
Table 2 Global Metal Recycling Market, By Equipment
Table 3 Global Metal Recycling Market, By Application
Table 4 Global Metal Recycling Market, By Regions
Table 5 North America Metal Recycling Market, By Country
About Market Research Future
At Market Research Future (MRFR), we enable our customers to unravel the complexity of various industries through our Cooked Research Report (CRR), Half-Cooked Research Reports (HCRR), Raw Research Reports (3R), Continuous-Feed Research (CFR), and Market Research & Consulting Services.
Contact:
Akash Anand
Market Research Future
Magarpatta Road, Hadapsar,
Pune - 411028
Maharashtra, India
+1 646 845 9312
Email: akash.anand@marketresearchfuture.com
Contact Info:
Name: Akash Anand
Organization: Market Research future
Address: Market Research Future Magarpatta Road, Hadapsar, Pune - 411028 Maharashtra, India +1 646 845 9312
Phone: 6468459312
Source URL: http://marketersmedia.com/metal-recycling-industry-is-expected-to-cross-usd-400-billion-and-grow-around-7-cagr-by-2022/177548
For more information, please visit https://www.marketresearchfuture.com/reports/metal-recycling-market-2201
Source: MarketersMedia
Release ID: 177548
Recent Press Releases By The Same User
Agarwood Essential Oil Market Expected to Grow at CAGR 4.2% During 2016 to 2022 (Fri 2nd Jun 17)
Cyber Weapon Market by Type, Product, Application, Region, Outlook and Forecast to 2022 (Fri 2nd Jun 17)
Landscaping and Gardening Expert Trevor McClintock Launches New Locally Optimized Website (Fri 2nd Jun 17)
Sleep apnea devices Market is Evolving At A CAGR of 7.5% by 2022 (Fri 2nd Jun 17)
Agriculture Technology Market 2017 Global Analysis, Opportunities and Forecast to 2022 (Fri 2nd Jun 17)
Global VR Helmet Market by Manufacturers, Technology, Type and Application, Forecast to 2022 (Fri 2nd Jun 17)