Phoenix AZ Electrician Commercial Lighting Installation 24/7 Services Launched
View as PDF
Print View
AZ State Electric, an electrical company available at (602) 888-2636, launched a variety of 24/7 commercial electrical services for clients in the Phoenix metropolitan area. The company provides electrical system design and installation, lighting maintenance and repair, and emergency electrical services.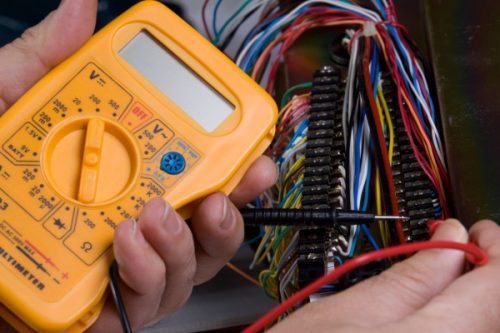 Phoenix, United States - March 15, 2017 /PressCable/ --
AZ State Electric, an electrical company based in Chandler, AZ, announced the opening of a new location in Phoenix providing a wide range of commercial electrical services.
More information can be found at http://azstateelectric.com.
Electrical systems are crucial for businesses large and small, as the energy consumption of commercial facilities is typically significantly higher than that of residential locations. For this reason, high-quality electrical system installation is essential to avoid potential electrical hazards, and constant maintenance and proper repair services are also necessary.
However, due to the busy schedule of many electrical contractors, 24/7 emergency services are often unavailable, thus causing business owners significant financial losses.
AZ State Electric is a professional electrical company which has expanded its services into the Phoenix metropolitan area. The company provides a wide variety of services, specializing in high-quality commercial electrical installation, maintenance, and emergency repair.
AZ State Electric offers a wide range of commercial electrical installation services for commercial locations of all types and sizes. The company provides a diversity of lighting installation, including motion lights, commercial lights and power outlets, showroom lighting, suspended lighting systems, parking lot lighting installation and many others.
The company also provides fire alarm system circuits, smoke detectors, circuit relocation or additional circuits and many other electrical installation services.
The Phoenix electrical company works with professional, licensed and certified technicians to provide high-quality, safe and reliable services. The company offers complete electrical systems design and installation services for all types of electrical systems.
AZ State Electric is one of the few electrical contractors in the Phoenix area that offers 24/7 emergency services. The company provides lighting repair and removal, equipment hook-ups and disconnects, power system troubleshooting, code violation corrections and many other services.
All AZ State Electric interventions are performed using state-of-the-art equipment and following all state and federal regulations.
Interested parties can find more information by visiting the above-mentioned website, or by contacting the business directly at AZ State Electric Phoenix, 24 W Camelback Rd a254, Phoenix, AZ 85013, (602) 888-2636.
Contact Info:
Name: Mohamed
Email: office@azstateelectric.com
Organization: AZ State Electric
Address: 24 W Camelback Rd a254,, Phoenix, AZ 85013, United States
Phone: +1-602-888-2636
For more information, please visit http://electriciansnearme.us/phoenixelectricians
Source: PressCable
Release ID: 178208
Recent Press Releases By The Same User
Agarwood Essential Oil Market Expected to Grow at CAGR 4.2% During 2016 to 2022 (Fri 2nd Jun 17)
Cyber Weapon Market by Type, Product, Application, Region, Outlook and Forecast to 2022 (Fri 2nd Jun 17)
Landscaping and Gardening Expert Trevor McClintock Launches New Locally Optimized Website (Fri 2nd Jun 17)
Sleep apnea devices Market is Evolving At A CAGR of 7.5% by 2022 (Fri 2nd Jun 17)
Agriculture Technology Market 2017 Global Analysis, Opportunities and Forecast to 2022 (Fri 2nd Jun 17)
Global VR Helmet Market by Manufacturers, Technology, Type and Application, Forecast to 2022 (Fri 2nd Jun 17)