Victoria Mutual Building Society Wins Two International Banker Banking Awards
View as PDF
Print View
Victoria Mutual Building Society Is the Winner of Two Prestigious International Banker Awards: Best Banking Group Jamaica 2017 and Best Innovation in Retail Banking Jamaica 2017.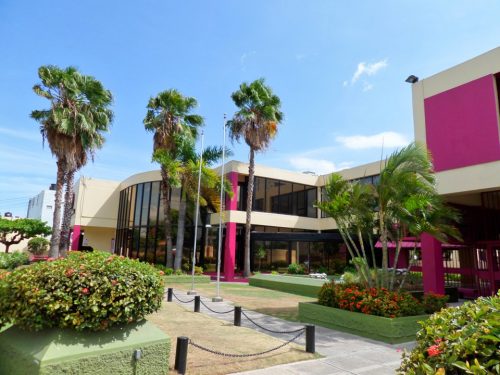 London, United Kingdom - March 16, 2017 /MarketersMedia/ --
International Banker recently held its annual Banking Awards to acknowledge the top banking institutions and individuals in North and South America. Victoria Mutual Building Society received awards in two categories: Best Banking Group Jamaica 2017 and Best Innovation in Retail Banking Jamaica 2017.
International Banker offers a global view of banking and finance. Each year through the Banking Awards, it recognises the leading banking institutions and individuals that have set the bar for industry excellence. The 2017 Banking Awards acknowledge the organisations and individuals within the banking and financial industries in North and South America that drive global economic commerce, create capital and opportunities for economic growth within their regions, set the benchmarks for technological advancement and customer service, while maintaining high levels of regulatory compliance and corporate governance. The standout institutions working within retail, commercial, investment and private banking are recognized with these awards. In addition, special awards are given to outstanding CEOs in each region.
Honoured with double awards to acknowledge and celebrate its innovation and leadership in the areas of commercial and retail banking in Jamaica, Victoria Mutual Building Society has achieved a prominent position on the International Banker 2017 North and South America Banking Awards list. Victoria Mutual Building Society (VMBS) has been a key player in the Jamaican financial sector since its founding in 1878. Applying its core mission of empowering its members to acquire their own homes and achieve financial independence, VMBS operates under a unified framework that focuses on providing exceptional financial products and services to members, who reside across the globe.
VMBS has pursued its goal of pooling resources to help Jamaican nationals save money, acquire homes and become financially independent. Historically the mutual's focus has been on retail-banking services--in particular, traditional savings and mortgage-loan products. VMBS has built a reputation for offering a range of financial products and services that far exceeds those of alternative building societies in the Caribbean. To consistently meet customer needs, the organisation provides innovative solutions through multiple service channels and throughout all levels of operation, and strives to meet the cultural values VM prides itself on--member focus, integrity, teamwork, innovation and excellence.
VM Group has evolved to meet the changing needs of its members. As such, it has expanded its product range to now include wealth-management and financial-advisory services; real-estate and commercial-property management services; money-transfer services; foreign-exchange trading; pension- administration and investment-management services; as well as property, casualty and liability insurance. As the largest building society in Jamaica, Victoria Mutual serves members across the island with accessible branches and ATMs. Branches provide committed local points of service on which members can rely. Victoria Mutual creates lifelong relationships and promotes a feeling of community between branch teams and local members.
Whilst Victoria Mutual is focused on its local-community-based approach, it concurrently has a global presence through its overseas representative offices in the United Kingdom, Canada and the United States. As the first Jamaican financial institution to establish international offices, VM has demonstrated its ability to forge ahead into new territories as part of its ongoing goal of being a modern mutual, providing service to all of its members. Victoria Mutual's overseas offices serve existing and potential members and customers by providing product and service information, facilitating the opening of new accounts, accepting withdrawal requests as well as a number of other services.
Victoria Mutual Building Society has successfully maintained an approach of balancing its core community-based values with an expanding range of innovative products and services to meet customer needs over the 138 years it has been in business and is well-positioned to successfully capture the potential opportunities over the horizon.
About International Banker: International Banker is the flagship brand of Finance Publishing, it delivers information with excellence through a wide range of accessible formats, from websites, newsletters and magazines.
Contact Info:
Name: Simon Brown
Email: simon.brown@financepublishing.com
Organization: Finance Publishing
Address: New House, 67-68 Hatton Garden, London EC1N 8JY, United Kingdom

Source URL: http://marketersmedia.com/victoria-mutual-building-society-wins-two-international-banker-banking-awards/177877
For more information, please visit http://internationalbanker.com/banking/victoria-mutual-building-society-faithful-financial-ally-thrifty/
Source: MarketersMedia
Release ID: 177877
Recent Press Releases By The Same User
Agarwood Essential Oil Market Expected to Grow at CAGR 4.2% During 2016 to 2022 (Fri 2nd Jun 17)
Cyber Weapon Market by Type, Product, Application, Region, Outlook and Forecast to 2022 (Fri 2nd Jun 17)
Landscaping and Gardening Expert Trevor McClintock Launches New Locally Optimized Website (Fri 2nd Jun 17)
Sleep apnea devices Market is Evolving At A CAGR of 7.5% by 2022 (Fri 2nd Jun 17)
Agriculture Technology Market 2017 Global Analysis, Opportunities and Forecast to 2022 (Fri 2nd Jun 17)
Global VR Helmet Market by Manufacturers, Technology, Type and Application, Forecast to 2022 (Fri 2nd Jun 17)