First Aid Kit Family Emergency Survival and Camping Medical Care Pack Launched
View as PDF
Print View
Patch Up Products, a Georgetown, Connecticut first aid solutions company, launched an emergency first aid kit for family, survival and camping. The medical pack contains a variety of items for emergency first aid treatment for cuts, wounds, insect stings, and common household and outdoor injuries.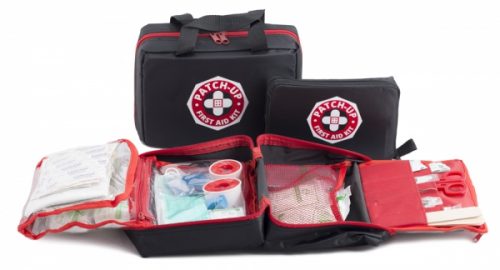 Georgetown, CT, United States - March 16, 2017 /PressCable/ --
Patch Up Products, a first aid solutions company based in Georgetown, Connecticut, launched a comprehensive hospital grade emergency first-aid medical kit for home, outdoors, survival and disaster preparedness.
More information is available at http://patchupkit.com.
First aid kits are extremely important in a variety of situations where emergency medical intervention is essential. Medical care packs can be found in a variety of public buildings, homes and vehicles, and in many states they are legally required for vehicle and business owners.
Legal aspects aside, first aid kits are one of the most important medical intervention tools in remote areas where immediate professional medical assistance is unavailable. Stopping a bleeding wound, for instance, can make the difference between life and death. People living or working in remote areas should always have a professional first aid kit immediately available.
Most first aid kits are relatively small, thus being adequate for only a small number of people. For larger families, it is important that the size of the kit is sufficient to provide immediate help for all family members.
The new Patch-Up First Aid Kit is designed to facilitate first aid intervention and treatment for large families and medium sized groups. The medical pack contains 275 pieces and 40 unique items including a bonus travel pouch, enabling the users to implement immediate emergency assistance in a variety of situations.
Certain medical supplies are crucial for first aid. The Patch Up Products kit contains a number of essential items such as thermometers, medical face masks, scissors, tweezers, a resuscitation device, Mylar emergency blankets, ice pack, cotton buds, safety pins and disposable gloves.
The kit also contains a wide range of adhesive bandages for a variety of emergency situations. Bandages include fingertip, knee, elbow, spot, large wound, standard, small, children's and butterfly bandages.
Other items include a variety of wound pads and gauze for cuts and injuries, as well as tongue depressors, eye patches, arm sling, elastic bandage and many other items.
All first aid items are packed in a durable stain and water-resistant nylon zippered bag that will endure tough outdoor conditions. Contents are well organized in expandable see-through pockets for quick item identification.
The Patch-Up Emergency First Aid Kit is available on Amazon.
Interested parties can find more information by visiting http://patchupkit.com.
Contact Info:
Name: Wallace Miller
Email: support@patchupkit.com
Organization: Patch Up Products LLC
Address: PO Box #3, 65 Redding Road, Georgetown, CT 06829, United States
Phone: +1-855-979-7211
For more information, please visit http://www.PatchUpKit.com
Source: PressCable
Release ID: 178692
Recent Press Releases By The Same User
Agarwood Essential Oil Market Expected to Grow at CAGR 4.2% During 2016 to 2022 (Fri 2nd Jun 17)
Cyber Weapon Market by Type, Product, Application, Region, Outlook and Forecast to 2022 (Fri 2nd Jun 17)
Landscaping and Gardening Expert Trevor McClintock Launches New Locally Optimized Website (Fri 2nd Jun 17)
Sleep apnea devices Market is Evolving At A CAGR of 7.5% by 2022 (Fri 2nd Jun 17)
Agriculture Technology Market 2017 Global Analysis, Opportunities and Forecast to 2022 (Fri 2nd Jun 17)
Global VR Helmet Market by Manufacturers, Technology, Type and Application, Forecast to 2022 (Fri 2nd Jun 17)