Wallet Bed Launches Kickstarter Campaign
View as PDF
Print View
Wallet Bed Partners With Funded Today To Increase Pledges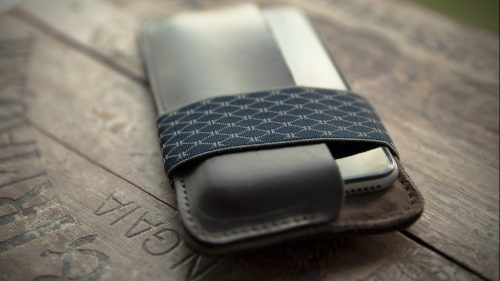 New York City, United States - March 17, 2017 /FundedToday/ --
Wallet Bed has just launched a campaign for their smartphone holder/wallet hybrid. They hope that, with the help of Funded Today, they can reach their project goal by the beginning of April 2017.
Product Specs
Wallet Bed is made from genuine leather and fits all smartphone models. It features a soft secure bed held in by a designer strap for smartphones on one side, and a wallet on the other to fit all cards and cash. The leather comes in four different color combinations, tailoring to all users. The wallet is also available in a larger size to accommodate for larger smartphones.
Pricing and Availability
Wallet Bed has partnered with Funded Today to help bring in more pledges to their campaign. Once the goal is reached, the product is set to be produced and shipped to all backers worldwide by June 2017. The starting price for one Wallet Bed is $35.
To learn more about Wallet Bed or to back their campaign, you can visit their Kickstarter page here:
https://www.kickstarter.com/projects/1979137932/wallet-bed?token=358d87af
Contact Info:
Name: Pascal Friedmann
Email: pascal@funded.today
Organization: Funded Today
Phone: 8016955804
Source URL: http://marketersmedia.com/wallet-bed-launches-kickstarter-campaign/179010
For more information, please visit http://www.funded.today
Source: FundedToday
Release ID: 179010
Recent Press Releases By The Same User
Agarwood Essential Oil Market Expected to Grow at CAGR 4.2% During 2016 to 2022 (Fri 2nd Jun 17)
Cyber Weapon Market by Type, Product, Application, Region, Outlook and Forecast to 2022 (Fri 2nd Jun 17)
Landscaping and Gardening Expert Trevor McClintock Launches New Locally Optimized Website (Fri 2nd Jun 17)
Sleep apnea devices Market is Evolving At A CAGR of 7.5% by 2022 (Fri 2nd Jun 17)
Agriculture Technology Market 2017 Global Analysis, Opportunities and Forecast to 2022 (Fri 2nd Jun 17)
Global VR Helmet Market by Manufacturers, Technology, Type and Application, Forecast to 2022 (Fri 2nd Jun 17)