Griffin Emblem Launches Successful Kickstarter Campaign
View as PDF
Print View
Griffin Partners With Funded Today To Bring In More Pledges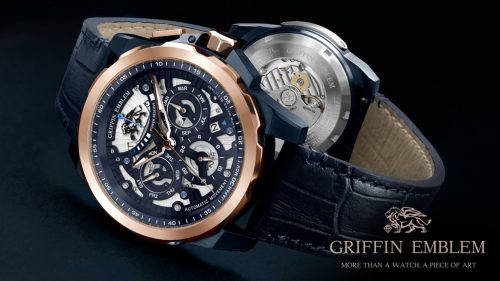 France - April 13, 2017 /FundedToday/ --
Griffin Emblem has launched an incredibly successful campaign for their skeleton automatic wristwatches. They have partnered with Funded Today to bring their product to a wider audience. They hope that this partnership will bring in more pledges for the remaining weeks of their campaign.
About Griffin Emblem
The Griffin Emblem line features automatic mechanical watches with skeleton and artistic design elements. The watches are made of sapphire crystal faces, stainless steel casings and genuine leather straps. Backers have a choice between two models: Option A--which is the skeleton model--and Option B, which is the limited edition piece. Option B comes with power reserve, Swiss newlite luminous hands, date window and calendar features. The watches can be pre-ordered in varying colors, including silver, black and rose gold. Interchangeable leather straps in are also available multiple colors.
Pricing and Availability
Griffin Emblem has already surpassed its Kickstarter funding goal by a large margin. The company has hired Funded Today to help increase the amount of pledges for the remaining time on their campaign. Once the project ends, the watches are set to be produced and shipped to all backers worldwide by October 2017. The starting price for one watch is $333.
To learn more about Griffin Emblem or to back their campaign, you can visit their Kickstarter page here:
https://www.kickstarter.com/projects/griffinemblem/griffin-emblem-high-quality-skeleton-automatic-wat
Contact Info:
Name: Pascal Friedmann
Email: pascal@funded.today
Organization: Funded Today
Phone: 8016955804
Source URL: http://marketersmedia.com/griffin-emblem-launches-successful-kickstarter-campaign/186302
For more information, please visit http://www.funded.today
Source: FundedToday
Release ID: 186302
Recent Press Releases By The Same User
Agarwood Essential Oil Market Expected to Grow at CAGR 4.2% During 2016 to 2022 (Fri 2nd Jun 17)
Cyber Weapon Market by Type, Product, Application, Region, Outlook and Forecast to 2022 (Fri 2nd Jun 17)
Landscaping and Gardening Expert Trevor McClintock Launches New Locally Optimized Website (Fri 2nd Jun 17)
Sleep apnea devices Market is Evolving At A CAGR of 7.5% by 2022 (Fri 2nd Jun 17)
Agriculture Technology Market 2017 Global Analysis, Opportunities and Forecast to 2022 (Fri 2nd Jun 17)
Global VR Helmet Market by Manufacturers, Technology, Type and Application, Forecast to 2022 (Fri 2nd Jun 17)