Tampa Mold Removal and Testing Firm TampaBayMold.net Launches YouTube Channel
View as PDF
Print View
TampaBayMold.net launches YouTube Channel aimed at residential homeowners and commercial businesses, that plans to cover mold remediation and testing. The channel and the extensive video content can be found at https://www.youtube.com/channel/UCUJPLrB5vt03IGu_JjZq53A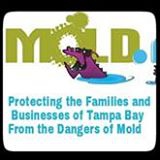 Tampa , FL, United States - April 17, 2017 /PressCable/ --
Residential homeowners, property managers and commercial businesses, looking for the latest information on mold remediation and testing services are invited to subscribe to the YouTube channel by TampaBayMold.net. This channel promises to provide expert guidance and information on mold remediation and testing services offered throughout the Tampa Bay region.
This YouTube channel was created specifically with the needs of real estate professionals and property managers in mind, and TampaBayMold.net welcomes input on which topics to explore.
David Koerner, CEO/Managing Member at TampaBayMold.net said: "MDS(Microbial Defense System) protects your home or business investment against the harmful effects of water intrusion, high humidity and moisture, inhibiting the growth of mold, fungi, bacteria, and viruses. An application of MDS is a Hurricane Mold Prevention Treatment!."
TampaBayMold.net's CEO/Managing Member goes on to say: "The aim of the YouTube Channel is to provide Information about mold removal and it's detection. The more feedback we can get, the better we can serve our audience."
Anybody interested in mold remediation and Testing and current TampaBayMold.net fans and supporters, can subscribe to the YouTube channel here https://www.youtube.com/channel/UCUJPLrB5vt03IGu_JjZq53A
Alternatively, they are welcome to read more on the company website at: www.tampabaymold.net
Some of the planned subjects for upcoming videos include:
Mold Remediation and Removal - Mold remedaition and mold removal is all about removing mold and mold spores from your property. Mold removal procedures can differ for each project and usually involves: containment of working area, disinfectant and anti-microbial misting, cleaning and treating of structural elements and application of patented polymer/silver ion sealer to prevent future mold growth.
Mold Inspection and Testing - Mold inspection and testing is about investigating and finding all of the mold at your property.Hygrometers, moisture meters,borescopes and even thermal cameras - all used to help find mold that may be hidden. Air and surface samples are sent to 3rd party certified labs for analysis to identify mold species and determine spore counts after mold is discovered. Lab results will help to decide the correct course of action for remediation if above normal levels of mold are found.
MoldExterm System - The MoldExterm System is a three part system: Step 1- MDS(Microbial Defense Sysytem) STEP 'A' an EPA-registered, mulitipurpose anti-microbial product based in quaternary ammonium salts. Part A will kill mold, bacteria and viruses in the prescribed area. Step 2- MDS( Microbial Defense System STEP 'B' a unique, proprietary, patented sealer. It is a combination of silver ions(which have the highest anti-microbial effect of all metals and the lowest effect on humans and animals) and patented long-lasting polymers. Step 3:- DEHUMIDIFICATION. Moisture in the home has many sources: plants, pets, people, cooking, washing, ground water, and infiltration of outside air. High relative humidity can create musty odors and can also stimulate the growth of mold, mildew, bacteria, and other biological allergens. To avoid the problems caused by moisture, a properly sized dehumidifier is necessary to maintain relative humidity between 40-50% throughout the home. This creates a less hospitable environment for dust mites, centipedes, silver-fish, spiders, and other pests
Soon it will be June 1st the official start of the Atlantic hurricane season., new viewers can view all the latest videos here: https://www.youtube.com/channel/UCUJPLrB5vt03IGu_JjZq53A
Further details on the channel, the direction and other information on TampaBayMold.net itself can be found on their website: www.tampabaymold.net
Contact Info:
Name: David Koerner
Email: tampabaymold@gmail.com
Organization: TampaBayMold.net
Address: 550 N. Reo St. Suite #300 , Tampa,FL, Tampa , FL 33609, United States
Phone: +1-813-358-4766
For more information, please visit http://tampabaymold.net
Source: PressCable
Release ID: 186597
Recent Press Releases By The Same User
Agarwood Essential Oil Market Expected to Grow at CAGR 4.2% During 2016 to 2022 (Fri 2nd Jun 17)
Cyber Weapon Market by Type, Product, Application, Region, Outlook and Forecast to 2022 (Fri 2nd Jun 17)
Landscaping and Gardening Expert Trevor McClintock Launches New Locally Optimized Website (Fri 2nd Jun 17)
Sleep apnea devices Market is Evolving At A CAGR of 7.5% by 2022 (Fri 2nd Jun 17)
Agriculture Technology Market 2017 Global Analysis, Opportunities and Forecast to 2022 (Fri 2nd Jun 17)
Global VR Helmet Market by Manufacturers, Technology, Type and Application, Forecast to 2022 (Fri 2nd Jun 17)