Cosmopolitan Collection Announces Makeup Organizer Is Back in Stock On Amazon
View as PDF
Print View
After limited supplies from increased customer demand, Cosmopolitan Collection announced today that their best-selling makeup organizer is now back in stock and available for purchase.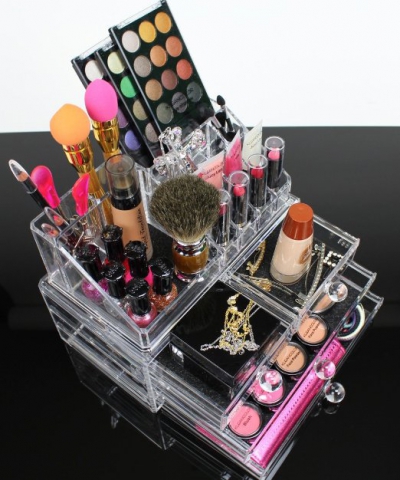 El Paso, TX, United States - April 18, 2017 /PressCable/ --
The acrylic makeup organizer by Cosmopolitan Collection is the top-ranked and best-selling organizer on Amazon.com. Satisfied customers agree, and demand for the popular organizer has continued to increase, leading to shortages of the makeup organizer. Last week, the organizer was sold out and not available for purchase on Amazon. Production has been increased, and Cosmopolitan Collection is happy to announce that the organizer is now back in stock and available for purchase.
"We continue to make aggressive sales and production goals, but the demand still manages to exceed them," explained Cosmopolitan Collection company spokesman Rob Bowser. "We are excited with the enthusiastic response of our customers, and want to assure them that we will continue to increase supply as needed, and want to ensure that the organizer is in stock and available for purchase."
The acrylic organizer by Cosmopolitan Collection has a variety of drawers and compartments of different shapes and sizes. The organizer can hold everything from makeup brushes, to lip sticks and shadow pallets. Cosmopolitan Collection designed the organizer so that there is a place for everything. Since the organizer is clear, it is easy to see where everything is stored.
Over 200 customers have left reviews on Amazon.com, with 97% of customers saying they liked their organizer. The average customer rating is 4.7 out of 5 stars. On verified purchaser wrote a five-star review and said "I did a lot of searching before I purchased this organizer. I love how the two sections come apart. You can keep them stacked together, but it gives you the option to customize it to fit what you need. I sometimes take one section apart and move it closer to me so I can get easier access to my mascara and eye liners. I was trying to find a way to store my makeup so I could access everything but see it too. This little organizer was a great solution. When it arrived in the mail, it was packed very carefully and when I opened it I was stunned. It was heavier than I thought it would be and a lot sturdier. You just can't tell from the photo how high quality this organizer is. I love it and hope to use this for many years to come."
The Cosmopolitan Collection acrylic makeup organizer is sold exclusively on Amazon.com and is currently on sale for $34.99. Free shipping is available on all purchase over $49. Any customer not completely satisfied with their makeup organizer can return it for a full refund.
About Cosmopolitan Collection: "As an honest and ethical company, Cosmopolitan Collection focuses all energy, resources, and effort to organizing the world in a beautiful way. By creating a single, acrylic makeup organizer, Cosmopolitan Collection works to improve the world by bringing the best quality makeup organizer in the world to market so that all men and women can use and enjoy the product at a reasonable price."
Contact Info:
Name: Rob Bowser
Email: info@cosmocollection.com
Organization: Cosmopolitan Collection
Address: 1490 A George Dieter 206, El Paso, TX 79936, United States

For more information, please visit http://www.amazon.com/s/ref=nb_sb_noss_2?url=search-alias&field-keywords=Acrylic+Makeup+Organizer&field-brand=Cosmopolitan+Collection
Source: PressCable
Release ID: 187131
Recent Press Releases By The Same User
Agarwood Essential Oil Market Expected to Grow at CAGR 4.2% During 2016 to 2022 (Fri 2nd Jun 17)
Cyber Weapon Market by Type, Product, Application, Region, Outlook and Forecast to 2022 (Fri 2nd Jun 17)
Landscaping and Gardening Expert Trevor McClintock Launches New Locally Optimized Website (Fri 2nd Jun 17)
Sleep apnea devices Market is Evolving At A CAGR of 7.5% by 2022 (Fri 2nd Jun 17)
Agriculture Technology Market 2017 Global Analysis, Opportunities and Forecast to 2022 (Fri 2nd Jun 17)
Global VR Helmet Market by Manufacturers, Technology, Type and Application, Forecast to 2022 (Fri 2nd Jun 17)