Drug Addiction 24 Hour Hotline Launches Addiction Recovery Hotline Service
View as PDF
Print View
Nationwide addiction helpline Better Addiction Care Hotline announced the launch of a special 24-hour addiction recovery hotline. This service provides confidential counseling services and lists the top patient-recommended addiction treatment facilities in the United States. The service is available in all cities across 50 states.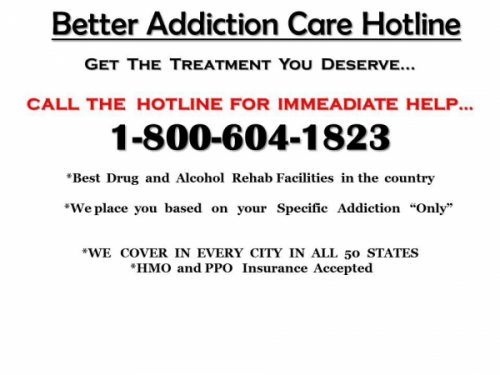 Los Angeles, United States - June 1, 2017 /PressCable/ --
Better Addiction Care Hotline, a nationwide addiction aid service announced the launch of its 24-hour addiction recovery hotline. The new helpline has been instituted to provide immediate aid and counseling to people addicted to drugs, alcohol and other substances.
More information about the Better Addiction Care Hotline can be found at 1-800-604-1823
The Substance Abuse and Mental Health Services Administration's annual National Survey on Drug Use and Health estimates that more than 47 million Americans above the age of 12 had used illicit drugs in the last year. Of this number, more than 24.5 million had used illicit substances other than marijuana, highlighting a growing need for addiction and recovery services across the United States.
Similarly, alcohol abuse and addiction affect approximately 14 million adults with approximately 8.1 million Americans diagnosed as being alcoholic. Drug and alcohol addiction has secondary and tertiary effects with former addicts prone to relapse when they are removed from therapy.
The Better Addiction Care Hotline's 24-hour addiction recovery hotline has been set up in response to the urgent need for personalized aid.
The new 24-hour Better Addiction Care Hotline for drug and alcohol addiction provides callers with counseling and access to the highest rated addiction treatment centers across the United States. The personalized service helps individuals with access to bespoke addiction treatments through a careful screening and evaluation process. The hotline focuses on providing callers with compassionate and confidential counseling and recovery services after a free evaluation.
Treatment and de-addiction facilities listed by the hotline are based on the experience of afflicted individuals. Treatment facilities accept patients holding HMO and PPO insurance as well as other third-party carriers. The hotline also offers educational resources such as guidelines to prevent prolonging of the substance abuse in question.
Located in Los Angels, CA and Delray Beach, FL, the Better Addiction Care Hotline is a national helpline available in all cities across the United States. The service operates in all 50 states and is focused on individuals seeking help with recovery from drug, alcohol and other addictions. More information is available by calling 1-800-604-1823
Contact Info:
Name: Mario Joseph
Organization: Better Addiction Care Hotline
Address: 151 Nw 1st Ave. Delray Beach, FL, Los Angeles 33487, United States
Phone: +1-800-604-1823
Source: PressCable
Release ID: 204121
Recent Press Releases By The Same User
Agarwood Essential Oil Market Expected to Grow at CAGR 4.2% During 2016 to 2022 (Fri 2nd Jun 17)
Cyber Weapon Market by Type, Product, Application, Region, Outlook and Forecast to 2022 (Fri 2nd Jun 17)
Landscaping and Gardening Expert Trevor McClintock Launches New Locally Optimized Website (Fri 2nd Jun 17)
Sleep apnea devices Market is Evolving At A CAGR of 7.5% by 2022 (Fri 2nd Jun 17)
Agriculture Technology Market 2017 Global Analysis, Opportunities and Forecast to 2022 (Fri 2nd Jun 17)
Global VR Helmet Market by Manufacturers, Technology, Type and Application, Forecast to 2022 (Fri 2nd Jun 17)